The Find agents section of the Zoopla website is a really easy way for consumers to discover which estate agent covers their local area. In large towns and cities, the list of agents can get very long. Therefore, by default the list is sorted alphabetically, all featured agents are featured at the top before non featured agents who then display below.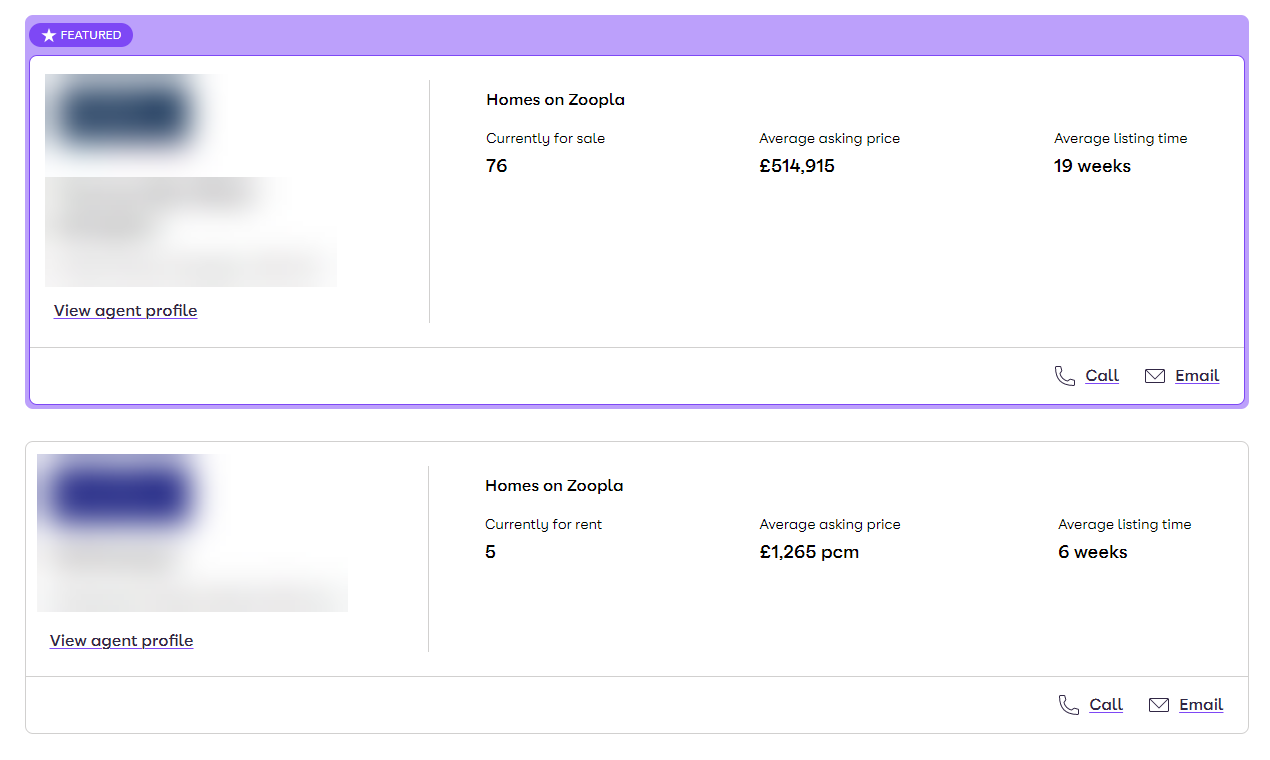 Featured and non featured agents as seen on the Find agents page on the Zoopla website
Featured Agent is all about bringing your brand to the front of consumer minds. It's less clear cut to track the impact versus Valuation Booster but it absolutely does not mean you should dismiss the value.
What you want to think about when you're a featured agent is are you making the most of that increased exposure, or what can you do to maximise that impact? If a consumer clicks View agent profile, your description displays - so think, are those words impactful? Do they call directly to the vendor or landlord that you are looking to target?
As you are going to have local agents immediately above and below you, you'll of course want to differentiate yourself from the competition. Double check your language ensuring it represents your brand well and that it appeals to your target market.
Your description can be amended in your Branch Profile.
For more information on Completing your Branch Profile, click here
For more information on Best Practice for your Branch Profile, click here


Zoopla has done a lot of research with homeowners and has established some of the key factors that influence their decision on who to invite to value their property. Part of what homeowners are looking for is going to be based on statistics - so what's the average time to find a buyer and the average price of your listings. Now these aren't things you can directly control, but to help homeowners engage with you, Zoopla includes that information within the Find agents section so homeowners can feel reassured right away that you're an established and sensible agent for them to choose for their property


There are two specific factors that you can really sell yourselves through, customer service and local area knowledge. Zoopla's surveys of homeowners found that two thirds of respondents cited service levels as being one of the most important factors when choosing an agent.
What you want to think about is what do you have in your description to call out your service. Maybe you work flexibly and offer lots of different levels of communication which would be good if you deal with vendors and landlords that are really busy, that have high demand jobs and so on. Tell them what you can do for them to suit their needs and their hours.
Or, maybe you are all about high levels of service, hand holding and explaining absolutely everything you do. Shout about it! Whatever it is about your service that you are most proud of, get it into your description so you can start to advertise yourself on it


When thinking about the local area, just over half of our homeowners said that expertise in the local area is really important to them, so make sure you speak to that. It may be that you have been working in the area for a long time, you may have a branch network in the immediate area or maybe you're born and bred in the town that you work in. Whatever you've got to show your expertise, pop it into your description so you can use that to advertise yourselves


Remember that you can update your Branch Profile as often as you want, so think about using the space to talk to your successes in recent months. You don't need to update it every month, but maybe every quarter or every six months. You can talk about what you've done well, information about current market conditions, anything that you feel is going to encourage homeowners to contact you. What you need to remember is that however you differentiate yourself and whatever information you give, it's even more key you can back everything up.
In research conducted by Zoopla in 2019 on understanding sellers, a factor that was mentioned time and time again is that homeowners want an estate agent who's trustworthy. As sales people, we're all used to crafting the perfect balance of information that's appealing, as well as remaining accurate, but it's sometimes forgotten that homeowners are looking for these qualities before you ever speak to them! It's not just about how you present yourself on the phone, it's not about the sales pitch, it's about encouraging them to speak to you right away. So giving that sense of being trustworthy from the off will really make a difference in terms of the enquiries that you get!
Related articles: