In-Search Ads is an ad format that is served on the Listings Search Result Page (LSRP), in line with listings. The adverts are built and managed in-house by Zoopla to match the look and feel of the Zoopla website, meaning no design costs for you.
In-Search Ads can be used to promote your brand and services to a targeted audience, with ads appearing exactly where property seekers are focusing their attention.
This article includes: 
Benefits of In-Search Ads
In-Search Ads brings with it a host of benefits for your brand. Using In-Search Ads, you can:
Maximise the visibility of your brand and services as the ad is positioned on the most visited page of the Zoopla website (on average, the Zoopla Listings Search Results Page is viewed 120M+ times each month). There are 5 slots available per page and this increased amount of creative space means there's plenty of opportunities for your ad to be showcased


Be seen by a highly attentive audience and promote yourselves with greater targeting capabilities


Save money as the engaging adverts are built in-house and managed by Zoopla, meaning no additional cost to you. It also brings a level of consistency as by using our template, the ads match the look and feel of a listing on the Zoopla website, bringing higher user engagement thanks to a less disruptive ad experience
 Best practice
Once you've decided on your ad campaign objectives, think about the core area where your target buyers come from and use In-Search Ads to target areas relevant to your campaign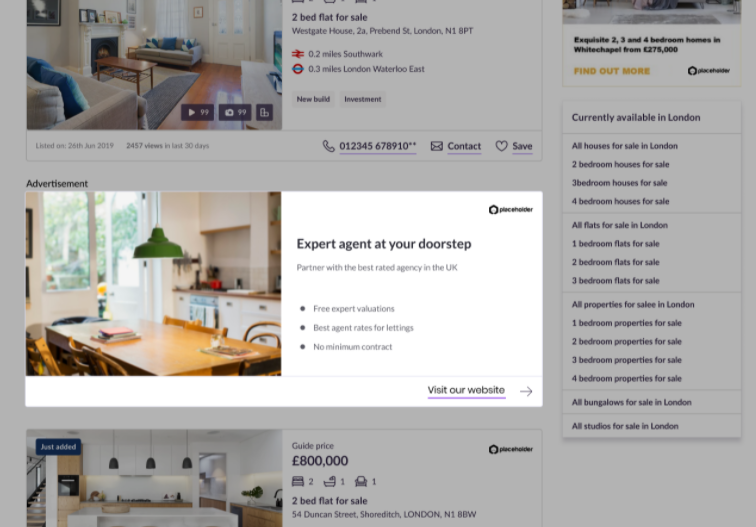 Did you know...
You can combine the power of In-Search Ads with other portal enhancements:
When using In-Search Ads to promote your brand or services, Area Sponsorship will help maximise your reach further on the most visited page on Zoopla
When using In-Search Ads to promote your valuation services, Valuation Booster will help "close the loop" with prospect customers
Ad assets
In order for us to build your adverts to your requirements and get them online quickly, we require certain creative assets to be submitted. These include:
Property-based

image (with no text) (430px x 310px) (300kb max)

Logo (146px x 72px) (100kb max)

Headline (max 40 characters)

Description (Body text) (Max 65 characters)

Featured (ie. bullet points) (Max 40 characters) 

Desktop Call-to-action (Max 35 characters)

Mobile Call-to-action (Max 16 characters)

Destination URL
 Best practice
Use a high quality, eye catching property-based image that is relevant to your text and call-to-action. We've seen that images of the kitchen receive a higher number of search clicks
Add a catchy headline and an engaging call-to-action that is relevant to the ad text. Consider the language you use such as the use of action verbs and think about what you can offer property seekers (i.e. a free booklet, or services such as an instant valuation)
Stand out by using the description and features to differentiate yourself from other agencies by highlighting what makes you unique and showcasing any branch statistics 
 Note
Contact your Account Manager to discuss and agree your ad campaign objectives and expectations.
For more information on In-Search Ads on Zoopla Advantage, and to book a consultation with your Account Manager, click here