what3words divided the world into 3 meter squares and gave each square a unique combination of 3 words. It's not designed to replace the street address, but rather be a useful addition when street addresses are not accurate enough. Potential buyers and tenants can then arrive at viewings at the right place, and time, having been provided a more accurate street address (for example, in the case of New Homes, Developments or rural properties).
That's why agents across the UK add a what3words address to their listings.
This article includes:
What's the problem with street addresses?
Postcodes drop a pin in the centre of an area, especially in large buildings and rural locations, which can make them them unhelpful for accurate navigation, many times not taking you to the front door of a property. Some listings, like a plot of land, don't have an address at all, and some postcodes span across multiple properties and streets.
A street address may help you find the building, but can't tell you where a specific entrance is or where to park your car. Additionally, new developments take time to appear on maps, and can take time to have postcodes assigned to them, so it can be difficult to direct customers to the exact location.
Provide more accurate location information with what3words
what3words is an easy way to identify precise locations. It has divided the world into 3 metre squares and given each one a unique combination of three words: a what3words address.
For example ///result.scuba.topic is the what3words address for Zoopla's Head Office in London. Anyone can enter these three words into the what3words app or website and press Navigate to get directions.
It's easy to find the what3words address for anywhere in the world. Either download the what3words mobile app (search in Google Play Store or App Store) or go to the online map at what3words.com from your desktop.
To find your what3words address:
Enter a street address or place name
Select the correct result
Zoom in and drag the map around to select the exact square

You can switch to satellite mode if you wish

The what3words address for the selected square will be displayed in the search bar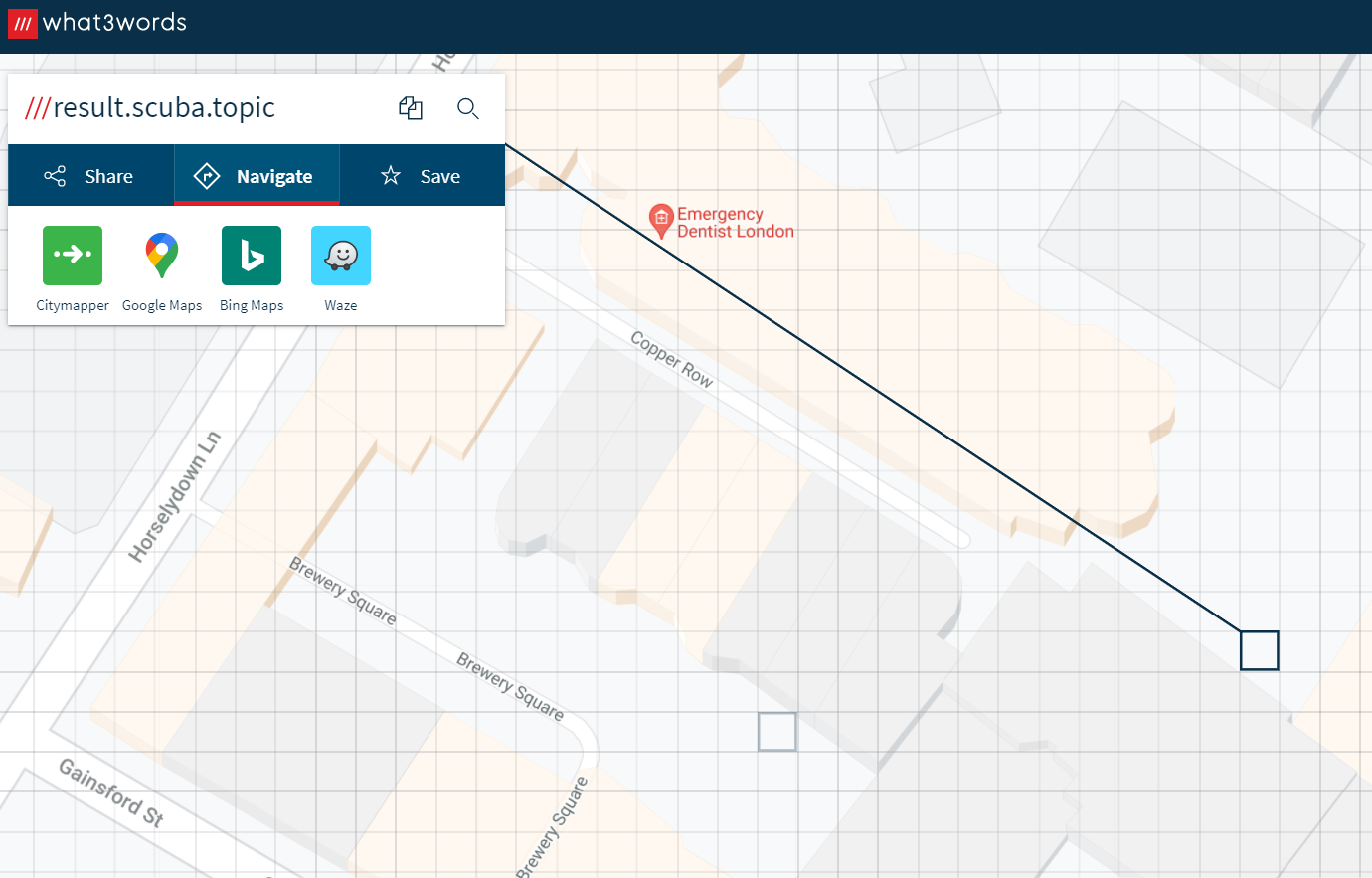 How to use what3words in your listings
Add a what3words address to a listing description to make sure your properties are always easy to locate.
Go to what3words.com

Or use the app and select the square that marks the entrance of the property

Add the what3words address to your listing description

For example, ///word.word.word is the what3words address for the best location
Note
You can hyperlink and send what3words addresses so anyone can click on the url and be taken to the what3words map
If you don't want to include a what3words address in your listing descriptions, you can still let potential buyers and tenants know that you're making their experience finding locations easier by using what3words in viewing confirmations, sent from your CRM software.
For example:
You can find this place easily by using what3words. Once you've booked a viewing, we'll send you the what3words address. Enter it into the free what3words app or online map (what3words.com) to find the exact location