The comparables report provides evidence of how similar properties in the area are performing, using current and historic data, and can help to build confidence in your valuation. This allows you to accurately manage vendors' and landlords' expectations.
The Comparables report builder allows you to build a customised property comparison report, which you can take out on market appraisals for your potential vendors' or landlords'.
A tailored comparables report helps build vendors' and landlords' confidence in the valuation provided for their property. Gaining their confidence and trust early on, backing it up with market evidence, gives you a higher chance of winning the instruction.
This article includes:
Creating your comparables report
Log in to ZooplaPro
Click the Winning instructions tab
Click Comparables report builder
Select whether the report caters for properties that are For sale or To rent
Complete the available criteria fields to specify the area, Property type and price range for the property you're valuing
Click Search to show a list of matching results
Once your results have populated, you can choose to make further Refinements, if necessary
Click Select image to change the image of the properties featured
Once you are happy with your list of properties, and the display images which you wish to showcase, individually click the tick boxes to select the properties for the report

Alternatively, click Select all in this page

Click Preview report
The Customisation pane can be tailored depending on what data you wish to include in the report, such as Agent Details, Customer details, Map & Charts, Sale history and estimates
Once you have selected what information to include in the report, click Customise to update the report preview
Email your report to any address, or Print/Save as PDF to take out on the valuation
Best practice
It is advisable to include Agent Details as well as Customer details, as these will help further personalise the report and show that extra level of care and credibility. You could enter your direct email address, add a personal note, or personalise the report to your vendor or landlord by changing some of the details to tailor it to their needs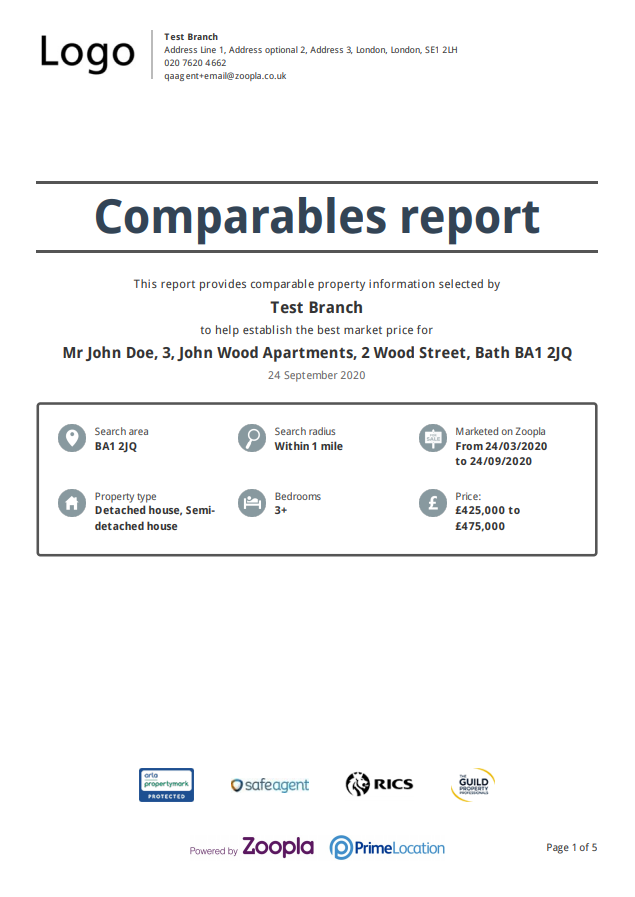 The easy to interpret graphics help your potential vendor or landlord to see a true breakdown of all the factors that can influence a valuation, and evidence that the valuation provided is accurate and reasonable.
Viewing and amending previously created comparables reports
Once you have created your comparables report, you can click Add to saved reports to make it available within Saved comparables reports.
Saved comparables reports enables you to access previously created and saved comparables reports, so that you can prepare reports ahead of time. Saved comparables reports can be edited when you are ready to finalise, or deleted when no longer needed.
Best practice
You can easily locate reports created for previous customers as their name will be listed along with the date it was created
Refining your results
Once you've specified your criteria for the comparables report, select the properties you want to include. On each property, you can select the image for your report.
Best practice
Alter the report to clearly highlight information which will help your vendor understand the basis for your valuation. Therefore, think about what kind of property you're valuing - do any of the comparable properties have similar features which could be highlighted by your choice of image?
For all, or each individual property, you can hide the property description. This is helpful if the Full description references the agent who marketed the property.
Similarly, the sales history can be hidden.
Customising the comparables report
Agent Details will be pre-populated with your branch email address. This can be changed to your individual email address if you want the vendor or landlord to contact you directly.
The customer name can be added under Customer details. This shows that the report was built specifically for them, demonstrating that extra level of care. You can also select the property address from the dropdown menu.
Maps & Charts are included by default. Maps should be used to aid price discussions, referencing the location of comparable properties and how it impacted their value. Charts give your customer a visual representation of average home value and ranges.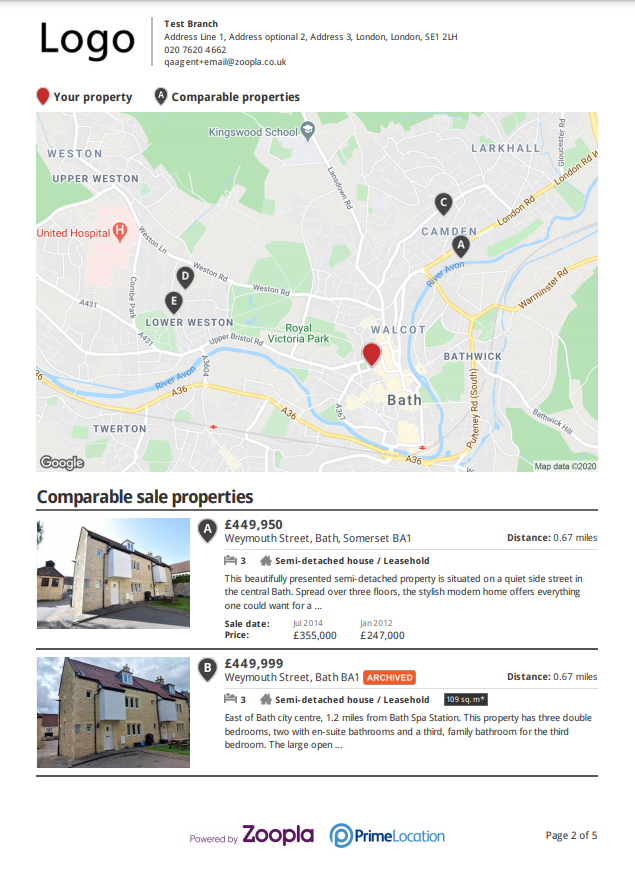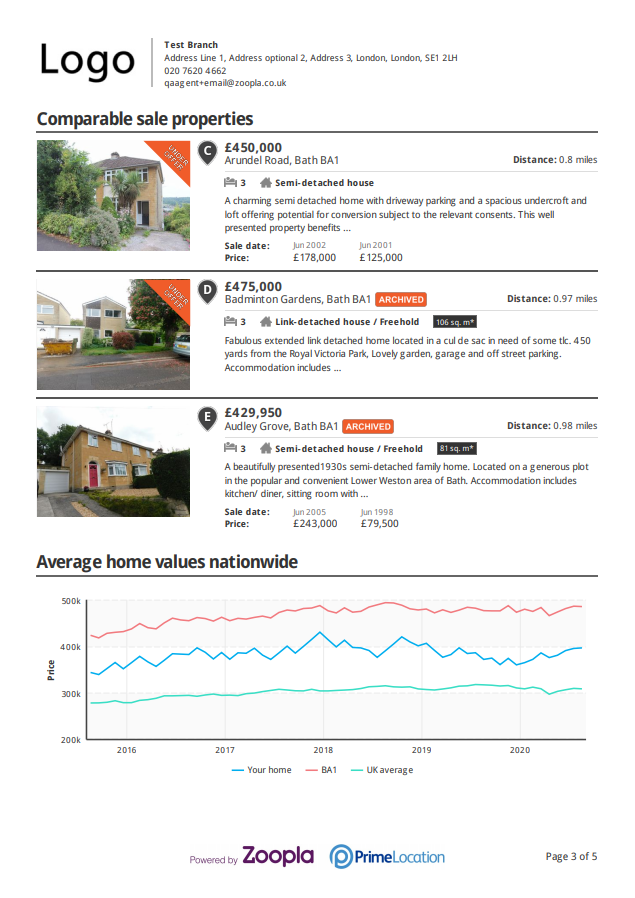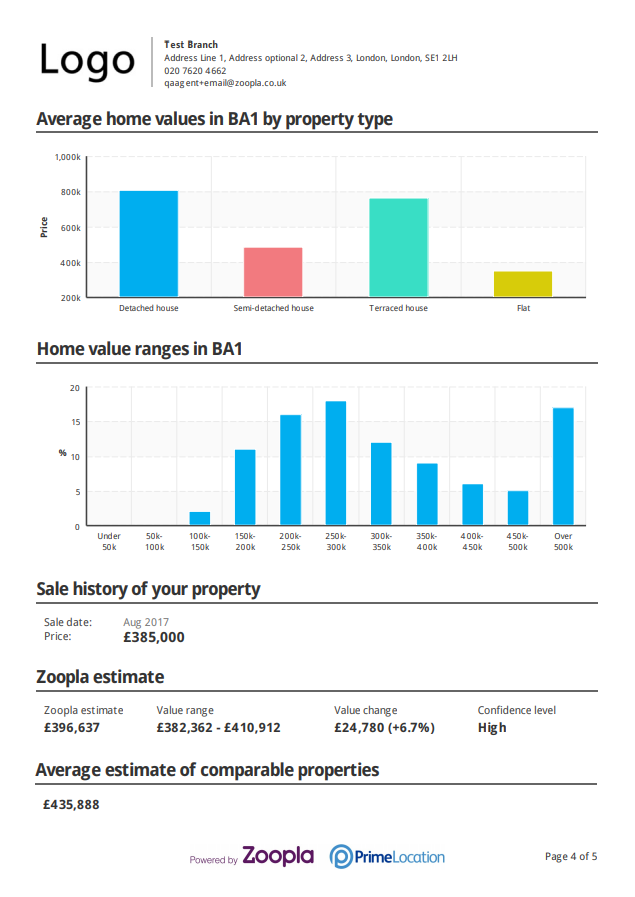 An example of a comparables report
If your customer only recently purchased the property, it may be useful to include the Sale history. This can give an immediate indication of how the property's value has changed.
If you already have a suggested value range for the property, you can include it under Your estimate.
Zoopla estimate and Comparable properties estimate gives you the option to include various price estimates on your comparables report, which will boost your vendor or landlords' confidence in the accuracy of your valuation.
Related articles: