The Property valuation report is a powerful tool when it comes to delivering a professional and accurate valuation for your prospective customers. The PVR is backed up by data from Hometrack which is recognised by 85% of major UK lenders, this in itself is an impressive stat to quote when you are delivering a valuation accompanied by this report.
This article includes: 
Benefits of the report
The Property valuation report can equip your branch with powerful property and local market insights, helping you provide value to prospective customers, and boost your credibility. It also provides value that not all of your competitors will have the luxury of doing.
To help ensure you stand out, each report that is generated is co-branded with:
Your agency logo
Agency profile
Your contact details
The content of the report is backed up by a unique valuation methodology that was built by Hometrack and the data is relied upon by the majority of the UK's largest mortgage lenders. This is something that we would encourage you to use to instil confidence in your prospective customers.
Once the report is generated, you're then able to provide a professional and customised report with accurate up to date data and market insights. We would recommend preparing this report for every market appraisal as doing so will help you to build credibility, back up your valuation, and demonstrate added value.
 Note
Prospective customers can purchase this report independently from Hometrack if they wish at a cost of £19.99, so you're really adding value by providing it
Best practice for using the report on a valuation
When preparing for a valuation, it's advisable to accompany your Property valuation report with a Comparables report. This is due to the Comparables report providing evidence of how similar properties in the area are performing, whilst being fully customisable. Not only will it help to build confidence in your valuation, it will allow you to really tailor the message you are sending. For example, you might be looking to show similar properties in the area to demonstrate how the market is performing, show trends in recent prices, or it might be a particularly difficult property to value, requiring more specific/wider-reaching data.
Once you have prepared that report, you can generate the co-branded Property valuation report that will contain very specific data on the property you are valuing. Some of which will include:
Estimated capital value with the level of Confidence based on Hometrack data
Property type (Detached, Semi-Detached, Terraced, Flat)
Total floor area (if available)
Year built
Number of Reception rooms
Number of Bedrooms
Number of Bathrooms
Average time on the market for properties nearby
The average percentage of the asking price achieved nearby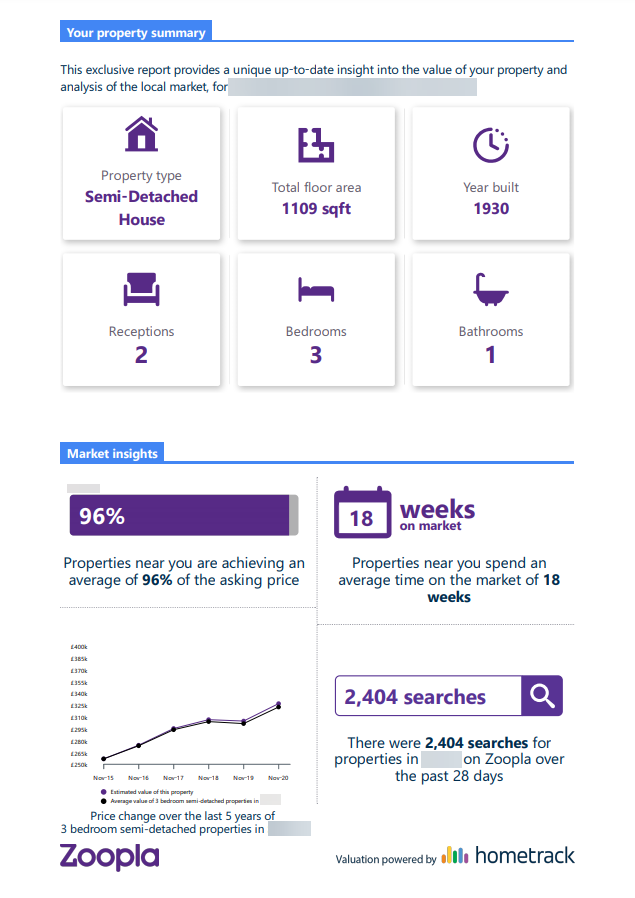 The data above is really useful when you discuss your valuation with the prospective customer as it allows you to demonstrate that you know your market and how it's performing where some agents might not come as prepared.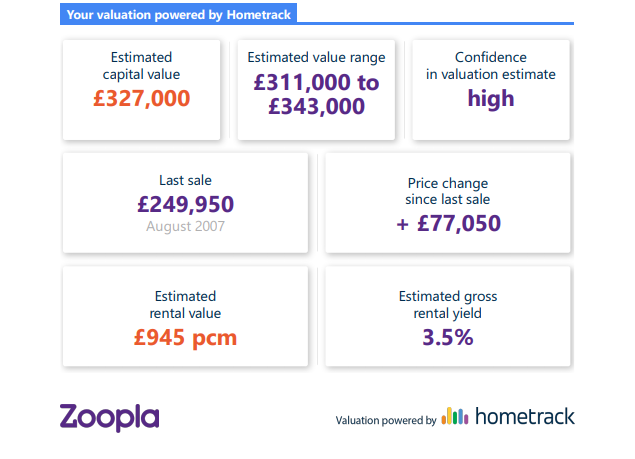 Best practice for delivering the report via virtual valuation
Preparing for a virtual valuation may not feel like it needs to be much different from an in-person valuation, you'll be on a video call and able to communicate effectively assuming connection and language barriers do not present issues that can be overcome in person.
However, in my experience as an agent, I found that it's even more important to back up what you are saying with evidence and to leave behind literature so that they have something to read and refer back to when making a decision.
Both the Comparables report and the Property valuation report can be made in to a .pdf document and emailed. The best scenario for delivering these would be alongside a follow-up email to the prospective customers having presented to them via Zoom, Google Meet, or whichever medium you have chosen to use. This allows them to go back over your valuation, compare the properties you have selected as comparables, and the wealth of data and insights within the Property valuation report.
One piece of data we recommend pointing towards within the Property valuation report is the Estimated value range that it creates and the Confidence level. When you look at these figures, assuming they correlate with what you wish to say, you have the influence of backing that up with the fact that 85% of the UK's top lenders will rely on this information to form an opinion on the value of a house for lending purposes.
A virtual valuation can sometimes be tricky to win trust from a prospective customer as the usual interactions can be lost. Therefore, when you are keen to impress the accuracy and credibility of your valuation on someone, using these facts can be incredibly powerful. For example, should a prospective customer feel your valuation is on the high side as they have not moved for some time, if the PVR agrees with you, any independent valuation or bank valuation will most likely use the same information meaning there is a greater chance of it not being down valued.
Related articles: