Property Sponsorship provides you with the chance to take ownership of your Listings details pages and sponsor your listings with advertising of your choice. It's a great tool to showcase and grow your brand awareness across all of your properties.
Whereas Area Sponsorship is outcode specific and as the name suggests, your advert appears in general searches made in that area (outcode), Property Sponsorship allows you to advertise and showcase your business, to help drive traffic to your website, irrespective of location.
It brings with it a host of benefits for your brand and branch, including:

Property Sponsorship allows you to build recognition of your brand by optimising your Listings details pages and sponsoring your own listings with display advertising of your choice, across desktop and mobile



Best practice

Whatever you choose to promote, property seekers can click on your advert from individual Listings details pages. Therefore, you'll want to ensure that the landing page on your website that the advert is directing traffic to is kept up to date, especially if it's for a time limited campaign

It can aid in increasing your brand awareness by promoting your brand on the properties that you have listed on Zoopla with display advertising
The ability to customise your message and position your business in front of the most relevant audience for you, i.e. Sales or Lettings
Did you know...
You can combine the power of Property Sponsorship and Area Sponsorship to increase your brand awareness in your local area
For more information on Boosting your brand with Area Sponsorship, click here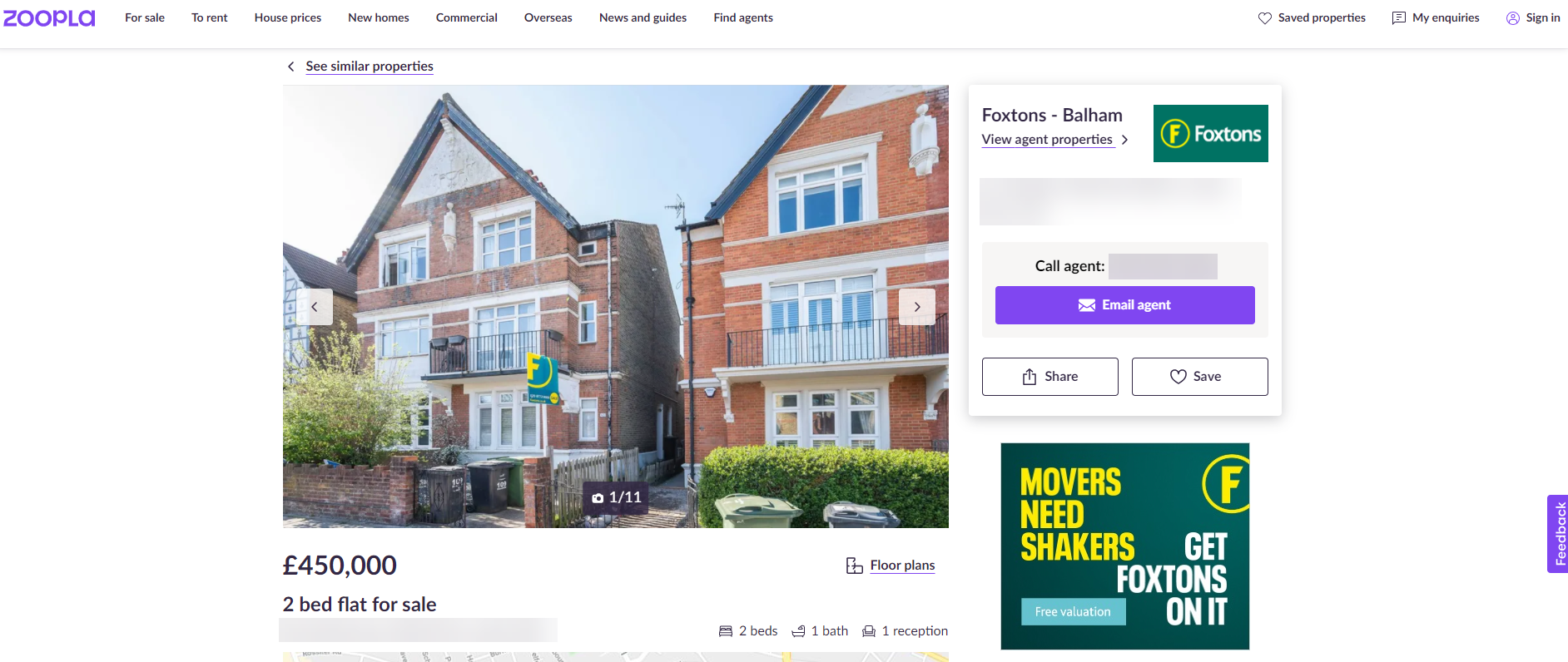 An example of a Property Sponsorship advert for Foxtons
Best practice
The advert that you choose to create should display a message that's current, ensuring you're relevant and reactive to the current market. It might be that you're looking to draw attention to your property list, maybe there's a financial services push that you wish to alert potential applicants and vendors to, or something charitable you're particularly proud of. It's important to keep your message up to date
When creating your advert, whilst you can use a static image, we would advise using a .gif as it's more eye catching and may allow you to get a more comprehensive message across.
This image will be far more prominent than the logo found alongside your branch name and contact details on the Listings details page, so the added benefit of further branding on the page is an advantage, particularly on mobile.
Technical Specifications
Creative Dimensions:

300x250 pixels. If the size is incorrect, this can slow down the production of your advert


Max File Size:

60kb


File Formats accepted:

.jpg,

.png

or

.gif

(Length of animation must not exceed 30 seconds. No looping beyond 30 seconds & no sound to be added)
Note
If you wish to purchase the Property Sponsorship portal enhancement, please contact your Account Manager