The Property valuation report provides the benefit of up-to-date insights in to data such as:
A property's value over time
The average sell time in the area
Analysis of the local market
The Property valuation report is an exclusive report that uses unique methodology built by Hometrack. Hometrack is trusted by major mortgage lenders, house builders and government bodies across the UK. This report helps you to be confident that your valuation is based on fact.
This article includes:
Benefits of the report
The Property valuation report can equip your branch with powerful property and local market insights, helping you provide value to prospective customers, and boost your credibility. It also provides value that not all of the competition will have the luxury of doing.
To help ensure you stand out, each report that is generated is co-branded with:
Your agency logo
Agency profile
Your contact details
How to produce a Property valuation report
Log in to ZooplaPro
Click the Winning instructions tab
Click Property valuation report
Click Download sample report if you wish to see an example of the report
Scroll down and fill in the Property details. The more details you add, the more accurate the results will be

Click in the Postcode field and type in the postcode of the property. Click the magnifying glass and a list of matching property addresses will populate the Address field to be selected from the dropdown menu
Select the Property Type and the number of Beds, Receptions and Bathrooms from their respective dropdown menus
Click in the Year Built field and type in the year the property was built, if known
Click in the Size field and enter the size of the property in square feet or square metres, if known

Click the tick box to confirm you agree to send the information to Hometrack and Zoopla
Click Continue
In Your valuation preview, you can then personalise the report with your customers name and a personal note, to personalise the report
Click Generate Report
Your report downloads in your browser as a .pdf
Understanding your report
Branding - Your logo, branch name, branch profile and contact details will be automatically pulled in from ZooplaPro
Contact details - The customers' name and property details that you provide when generating the report will be added to the cover of the report with a timestamp
Your property summary provides a snapshot of the property that is being valued and displays details about the property type, the total floor area, the year it was built, and the number of rooms. If there happens to be any missing information, it will be marked as unknown
The Market insights section provides detailed local property market insights. These include sale-to-asking price ratio, average time on market for properties nearby, as well as search data that indicates the current demand in the area
These data can be invaluable in shaping valuation discussions with prospective vendors and landlords.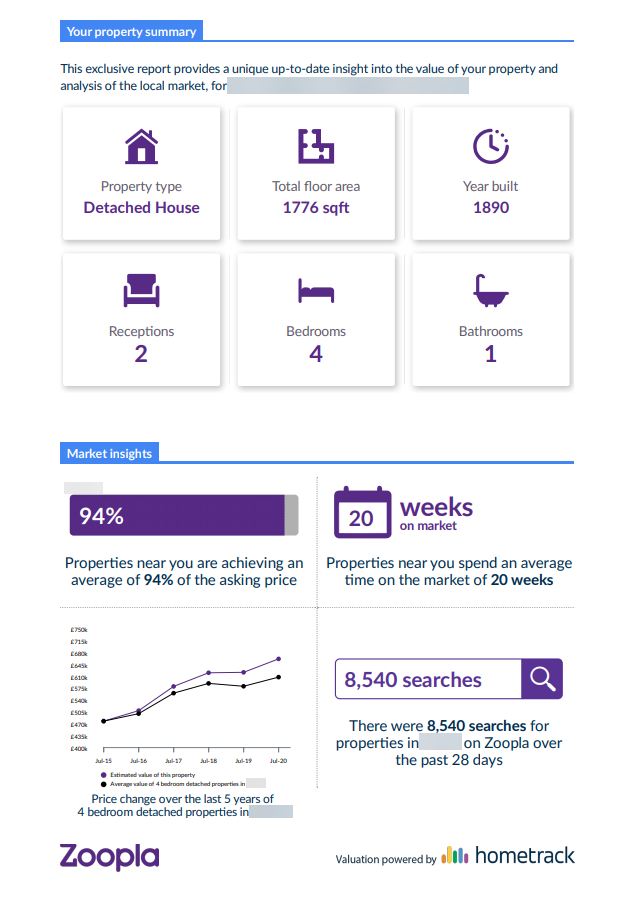 The property summary page of the valuation report
Best practice
Print the report and take it with you as a talking point to support your valuation and leave behind your brand. Alternatively, email the report directly to the prospect after your presentation as a follow up
The Recent activity near you section summarises nearby properties that are currently on the market, and their listing prices for additional context. Any properties that you are marketing are prioritised, to help demonstrate your local coverage
Your valuation powered by Hometrack outlines independent property valuation information based on Hometrack's purpose built, automated valuation methodology. It's comprised of a valuation for both sales and rental, price changes since last sale of property, gross rental yield and more. The valuation is intended to provide you with a starting point to aid price discussions. Once you have seen the property, you will be able to give an expert view on the recommended listing price
Note
For more information on the Property valuation report, on Zoopla Advantage, click here
If you don't have access to Property valuation report, contact

Member Services. You can either email

members@zoopla.co.uk

, or, click

Submit a request

below and complete the contact form
Related articles:
How using the Property valuation report to win business can give you an advantage