Area Sponsorship is a cost effective way of promoting your brand and branch to a much wider audience, in locations where you would like to raise your profile. Area Sponsorship identifies applicants looking for a property in certain outcodes, allowing you to advertise to them in a targeted manner.
Area Sponsorship allows you to advertise more strategically, bringing attention to any special offers or services. It's also a great opportunity to generate brand awareness, and drive traffic to your own website.
This article includes:
How Area Sponsorship works
Area Sponsorship allows you to create an advert which will showcase your brand ahead of the competition, and capture the attention of potential applicants in your chosen locations. By sponsoring an outcode, or multiple outcodes, on Zoopla, you can position your advert on specific sections of the website, for example, on the For sale, To rent, New homes or House prices pages, in order to target the most relevant audience for your business.
Your advert is yours to show off - it can contain your company branding, images and messaging of your choice. It can then link out to any landing page you choose, for example, your website homepage, your valuation enquiry page, or any other location you choose.
When a potential applicant searches the area that relates to the outcode you've sponsored, your advert will appear prominently on all the search results pages.
To maximise your Area Sponsorship, your advert should be in .gif format. You can get your .gif advert added by contacting Member Services and sending the file as an attachment in an email. We will also accept adverts in the following formats: .jpg, .gif, .bmp, .png, .swf and HTML5.
Best practice
You can refresh your design as much as you want - regularly update your advert and review how it displays to ensure that you are always promoting your current and most relevant marketing messages. Linking your advert to pages that specifically relate to your messages will help you to gain maximum impact
Warning
If you don't provide any graphics for your advert, you will be assigned a template that only contains your postcode, branch name and a link to your website
Please be aware that sound cannot be added to your adverts
Benefits of Area Sponsorship
Area Sponsorship brings with it a host of benefits for your brand and branch. Using Area Sponsorship, you can:
Dominate the search results page, and be seen by a highly engaged and targeted audience, in a cost effective way
Control your message, using it as an opportunity to direct traffic to your website
Stand out from your competitors as the only agent showcased in your area
Flexibly choose which of your services to promote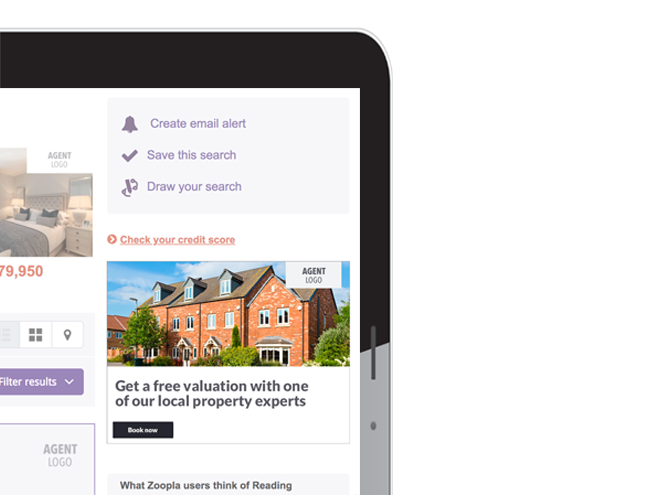 An example advert showcased alongside search results on the Zoopla website
Note
Get more information on Area Sponsorship
To find out if Area Sponsorship is available in your area, or for any other enquiries, contact Member Services or your Account Manager