Note
Audience Connect, which was formerly known as AdReach Express, is now combined into our Remarketing solutions
For more information on Targeting Zoopla's audiences with Remarketing solutions, click here
Audience Connect is our self-service, location based tool which helps you target potential vendors and landlords after they've left the Zoopla site. It uses Zoopla data to increase the precision of your online targeting, to help you build an online presence and stay top of mind.
Insights from our existing social media marketing solution show that 98% of engaged vendors want to receive an instant online valuation[1]. Audience Connect provides those engaged vendors exactly with what they want, pairing a targeted social media marketing campaign with the Zoopla Valuation Tool.
This article includes:
How Audience Connect works
By monitoring multiple touch points across zoopla.co.uk and tracking user behaviour, we're able to determine which users are most likely to be vendors.
Audience Connect unlocks direct access to this highly engaged, high value vendor audience, showcasing your ads across Facebook and Instagram.
Every potential vendor that clicks on your ad will be driven to the Zoopla Valuation Tool, offering them an instant house price estimate (or you can use our chatbot to collect their details if you can't edit your website), and their details will be sent automatically to you by email and populated into your Zoopla CRM.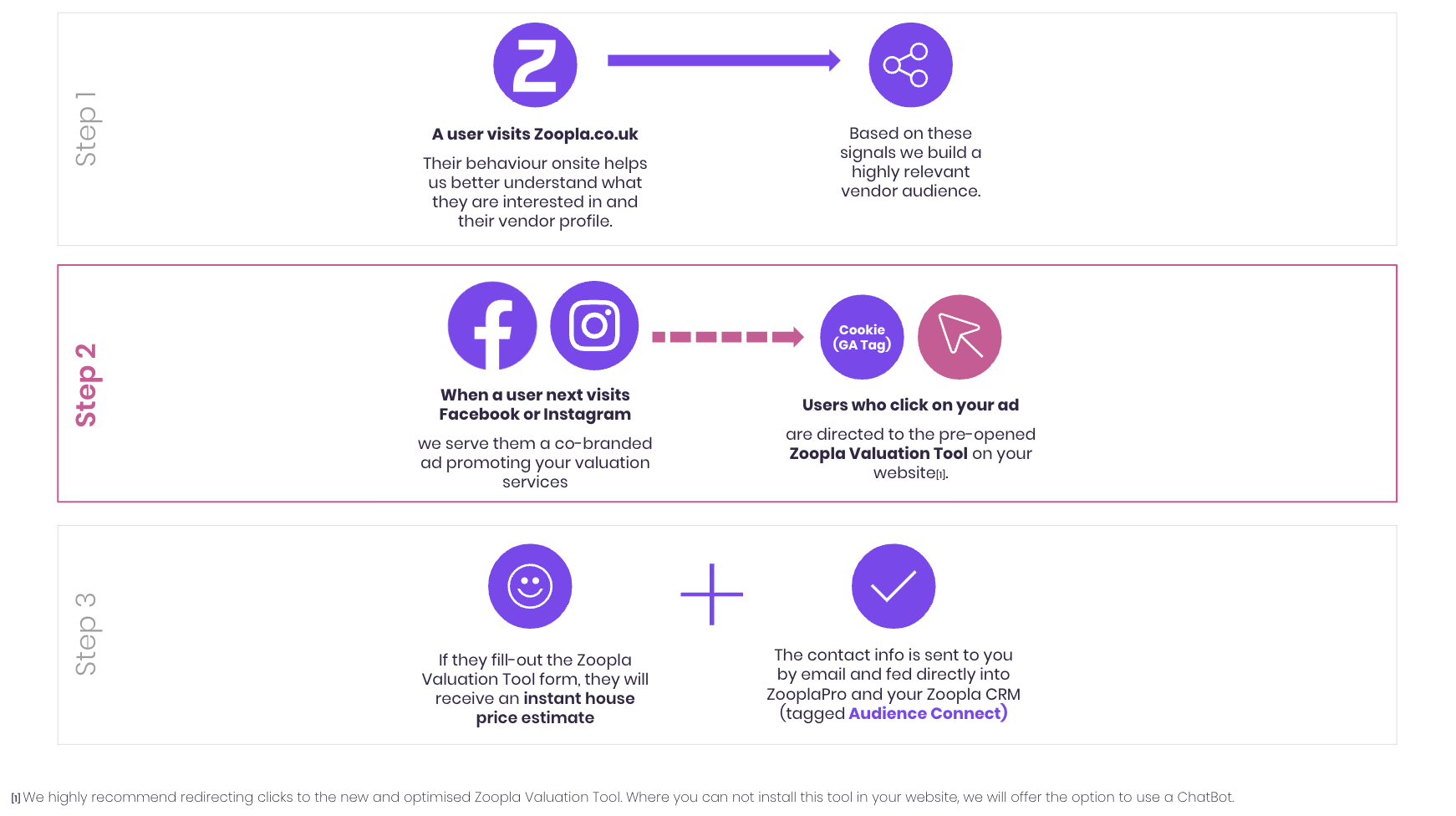 [1] Internal Zoopla data, 2020. Insights from historical campaigns
How can Audience Connect help me
Personalised ads: Serve personalised ads, co-branded with Zoopla, allowing you to benefit from our 84% consumer brand recognition

[2]

Flexible redirection: Provide prospecting vendors with an instant price estimate and capture their contact details with the Zoopla Valuation Tool or use our chatbot (contact details only)
Exclusive leads: Only pay for clicks. And when you receive valuation leads, it's a bonus and they are unique to your branch!
Offer instant house price estimates on your website with Zoopla Valuation Tool
Get a new way to hook the 98% of would-be vendors who want an instant house price estimate[3] and maximise your share of valuation leads with a 130% average uplift[4] after integrating the Zoopla Valuation Tool into your agency's website.
The Zoopla Valuation Tool is the only valuation tool powered by Hometrack data - Hometrack's Automated Valuation Model (AVM) is the UK market leader and relied on by 13 of the top 15 UK mortgage lenders.
What happens if I don't have a webmaster or can't edit my website?
You'll be able to use our chatbot. It allows you to collect the user's details, as well as their preferred contact method.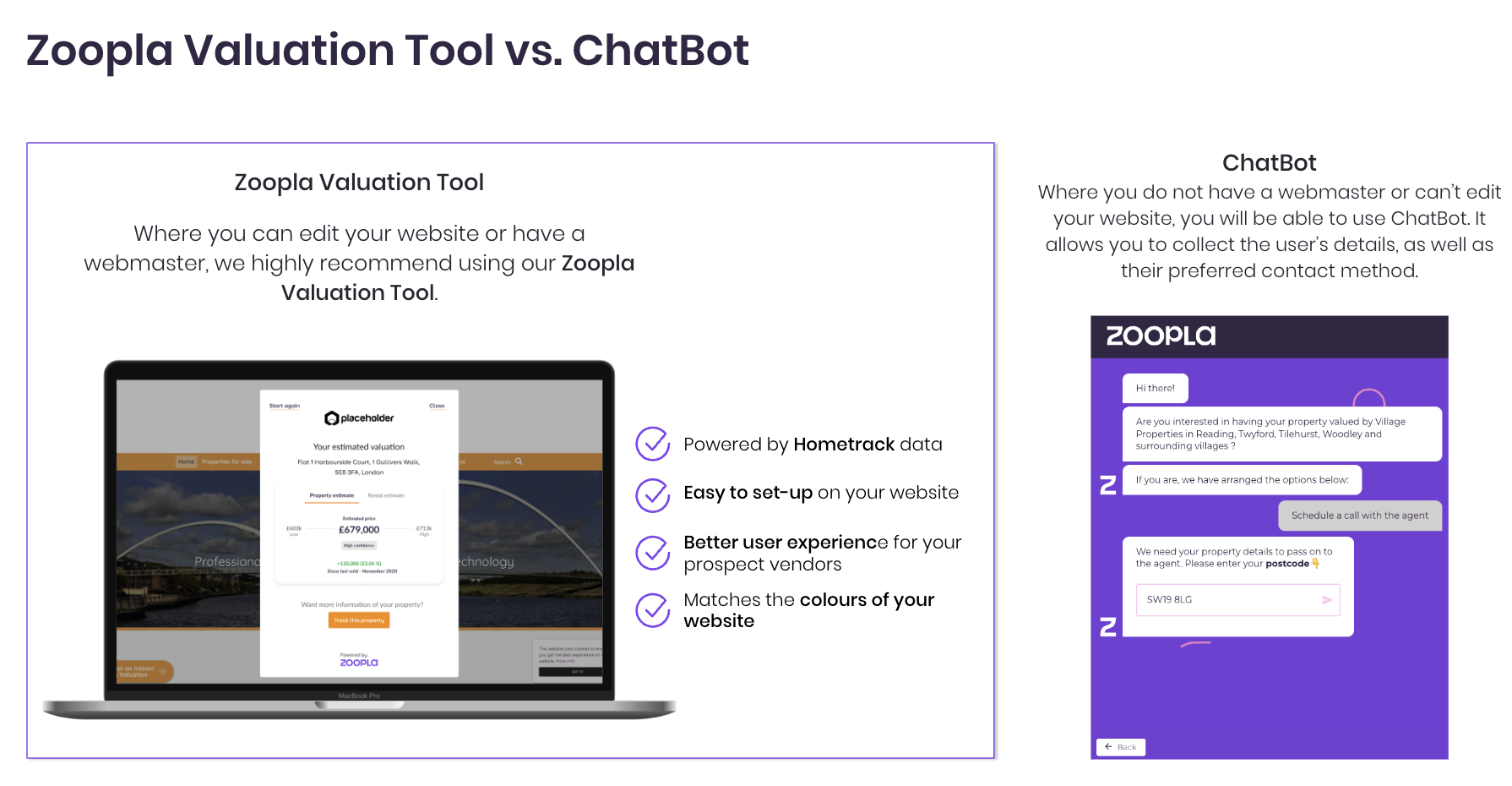 Designing your campaign
To make the most of your advertising efforts, we recommend selecting a property image that showcases the high-quality photography you offer. Additionally, choosing a property that accurately reflects the style of home you're targeting will attract the right audience.
Don't forget to upload a high-quality image of your logo as well. This helps promote your brand in the best possible light and reinforces your credibility with potential clients. By paying attention to these details, you can ensure that your advertising materials create a strong and positive impression on viewers.
Targeting
By default, Audience Connect has a target radius of 15km[5] and allows you to select your desired target postcode. You have the option of changing your target postcode at any time during the campaign.
Keeping your campaign up to date
Best practice
We have a variety of best practice recommendations that you should keep in mind when using Audience Connect
For more information on Best Practice when using Audience Connect, click here
Every month, you'll receive an email that provides insights into the performance of your Audience Connect campaign. This will include information about the number of times your ad has been seen by users in your targeted area, known as impressions, as well as the number of clicks your ad has received. By monitoring these numbers, you can determine if a particular property photo is generating better results, or gain insights into market trends in your area.
If you want to view your current campaign, click Preview your advert at the bottom of the email. If you want to make changes to your booking, click Edit your booking in the email.
Editing your booking
On every email that Zoopla sends you from Audience Connect, you'll find a link to edit your booking. The link will take you to the original page where you placed your booking.
As you follow the steps, you'll notice your details have been pre-filled automatically. From here, you'll be able to make changes to the following fields:
The email address and phone number
The branch area and business name that you want to show in the ads
The property and logo images (to be able to change them, you'll first need to delete the current one before uploading the new one)
Please ensure all fields are filled out before submitting.
Note
All changes will not be saved unless you follow through and click Submit at the end of the booking. By clicking Submit at the end of the journey, you will not be placing a new booking, you will only be editing your existing booking, and you will not be billed twice
FAQs
How will I receive my campaign statistics?
You'll receive your campaign statistics via email on a monthly basis, after your campaign has been running for at least 7 days.
Yes, once your booking is completed and your ad is live, you can preview it in the confirmation email sent to your chosen email address. You can also preview your ad in the campaign statistics emails.
No, the text is automatically generated based on the information provided in your booking form.
Can I upload a custom image/graphic instead of a property image?
Yes, we encourage you to upload a custom image or graphic to replace a property image if you prefer. We understand that sometimes a custom image or graphic can better represent your brand or message. Please note that the image must meet our image guidelines and be approved before it can be used in your campaign.
What constitutes a "Click"?
A "Click" occurs when a user interacts with your ad by clicking on it to go to your chatbot or Zoopla Valuation Tool. Even if the user doesn't fill out their details, the click is still captured, indicating that the user is interested in the ad.
A "Lead" refers to a user who shows interest in your ad by submitting their contact details through the chatbot or Zoopla Valuation Tool, enabling your agency to provide them with a valuation of their home.
How will I receive my leads?
Leads will be automatically sent to your CRM software and ZooplaPro. The leads sent through to your CRM will be visible through the correct tagging.
You'll be sent an invoice from our finance department outlining your payment terms each calendar month, as you are an existing ZPG customer.
How do I cancel my contract?
If you don't wish to renew your contract, you can either contact billing@zoopla.co.uk directly or provide written confirmation to your Account Manager. According to the T&Cs of the product, written confirmation must be received at least 30 calendar days prior to the date you wish to cancel.
If you wish to contact the team, you can do so via email at audience.connect@zoopla.co.uk.
Related articles:
Best Practice when using Audience Connect
[2] Consumer tracker, Dynata, 2022. Prompted brand awareness.
[3] Internal Zoopla data, 2020. Insights from historical campaigns - 98% of engaged vendor users declared wanting to receive an instant online valuation
[4]Zoopla data, February-March 2022. 60 days post activation versus previous 60 days. This does not guarantee future performance of the Zoopla Valuation Tool.
[5]This is the minimum radius that Housing ads can use to comply with Facebook's Advertising Policies.